So while I was at my in-laws this weekend, I uploaded a ton of photos. But rather than bombblast them all up at once in a day-in-the-life kind of post (not that I didn't think it was a cool idea, just that the ones I took don't really tell one long coherant story) I'm going to put them up in smaller groups over a longer amount of time. Since I've spent a lot of time on this blog writing about Ben's room, I figured those ones should go here.
Oh, and Ben slept through the night on Friday night while I was working. All the way from 8:30 p.m. until 6 a.m. Wow! Of course, we couldn't get him back to bed at 6, but that's OK. Saturday night, he slept until 6 a.m. again, even at my MIL's house while sharing the bed with us. We weren't quiet either. We came in, we moved him, we got up again, we talked, and he slept through it all. AND he went back to sleep after he nursed at 6 a.m.
Yesterday night he only slept until 3:30, but still, I never thought I'd be saying he
only
slept until 3:30, you know? I mean, prior to moving him to his own room, I pretty much expected him to wake up before midnight (usually before 11 p.m.!) every single night. For months. Possibly even for the last YEAR. And now, he is sleeping so well! Yay. The only thing is he's still having trouble making it all the way to our room. He's suceeded at this only once, the first time he slept til 6 a.m. All the other days, he cries at the gate. And strangly, he usually cries for Papa. Once he gets in the room he wants to nurse and says "Mama otherside peeeese" but out in the hall it's "PAPA!!!" Weird.
Pictures, yay!!!!
Here is Ben asleep on Friday afternoon during his nap.
Here is what Ben looked like when he heard me enter the room and take his picture. He was not thrilled to be woken up. (Don't worry, it was time for him to get up anyway.)
Here is what Ben looked like after he settled down to some Mama otherside, which always improves his mood greatly. Notice the firehose leg in the air. This is clearly because the milk comes out so fast that it shoots all the way down to his toes and makes them fly around all crazy-like.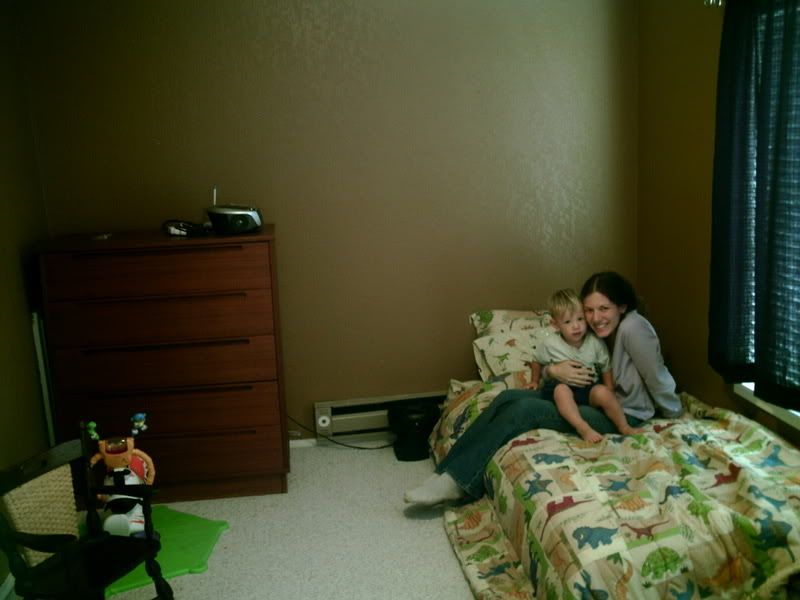 Here is how cute and happy we are after he is done having his otherside. Yum yum yummers. Note how ugly the wooden dresser now looks next to the painkasaurus brown walls. We tried shopping around for something to replace it with, but everything either wouldnt' work or was way too expensive. So even though its nice wood and hearing this would probably give my mom (who is a big fan of nice wood) a heart attack, we're probably just going to paint it white. It's quite old anyway, and has several stains on it. So I'm not
too
sad about it.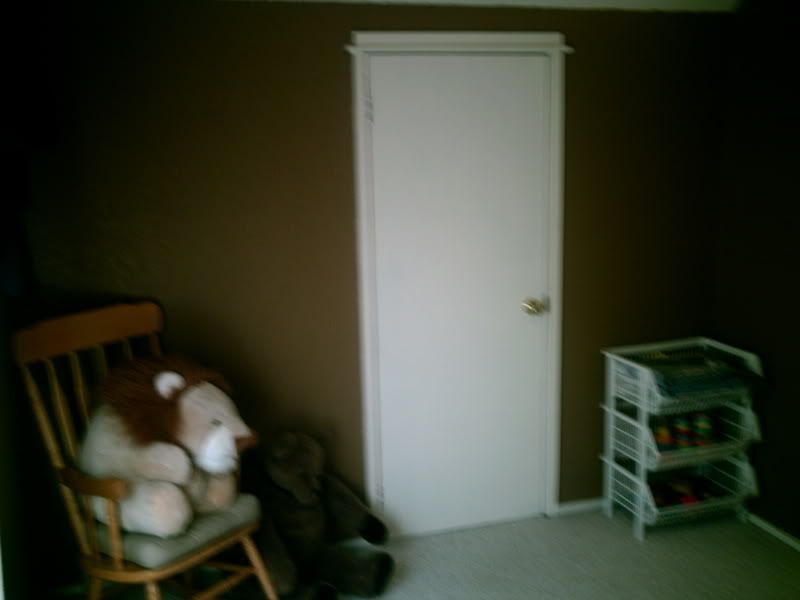 Here are a few more shots of the rest of the room. The walls used to be white and the doors used to be wood-colored.